Soft loop bags
---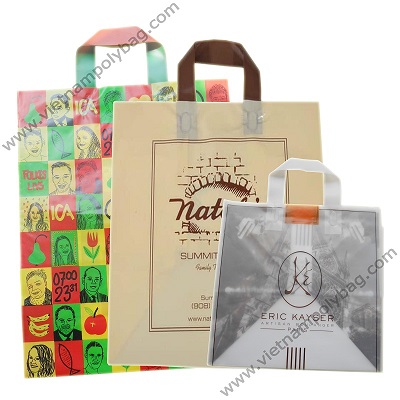 Description: Soft loop handle bag is a polyethylene bag with reinforced gussets and dual soft loop handles, they keep precious cargo suspended safely during transport.
Tri fold handle bags are a fashion bag with a specially designed rigid, "stand-up" triple thick crimped handle. This bag has a cardboard insert at the bottom that gives extra rigidity.
Material: made of HDPE from 25 microns or LDPE/MDPE from 30 microns and printing up to 12 colors by Gravure or Flexo
Advantage: able to hold heavy weight items and resist tearing and stretching. These bags are able to stand on their own without tipping, so you can transport items in your car, easily store them in your home, or securely ship them. Several of plastic bag varieties also come with a cardboard insert that will flatten the bag's bottom for added balance. Soft handle promotional plastic bags serve a utilitarian purpose aside from looking good.
Usage: Its design features soft loop handles, and it's so convenient for carrying gifs, jewelry, cosmetics, shoes, men- women and children's apparel.