RPET bags
---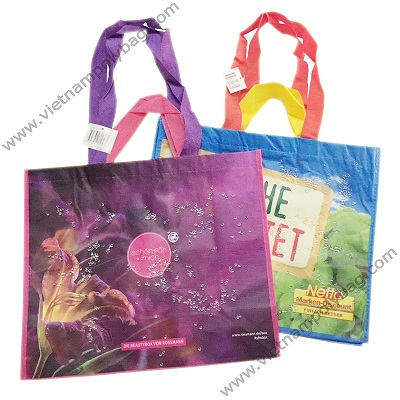 Description: RPET bags are reusable bags made from post – consumer recycled material and from 100% recycled material, mostly resulting from plastic bottles, small weight. RPET reusable bags can be laminated to water proof.
Other names: Polyethylene bag, laminated PP bag, reusable bag, eco friendly bag, environmental protection bag
Material: PP woven with lamination from 90gsm that printed up to 14 colors by Gravure
Advantage: RPET bags are safe, light, strong and durable make them an ecologic and high-quality bag at low cost. Because made from recycled material, they can easily recycled and reuse again and again. Covered by a film out site, RPET bag are completely waterproof, shatter-resistance. Additionally, they come with a convenient zipper closure, meaning that all stuffs inside will be protected from the elements.
Usage: Suitable for packaging, shopping, promotion and advertisement (idea for fashion stores, supermarket, promotional events or advertising company's brands…